Online Journal, Shabby Doll House: Editor Interviewed by Stacey Teague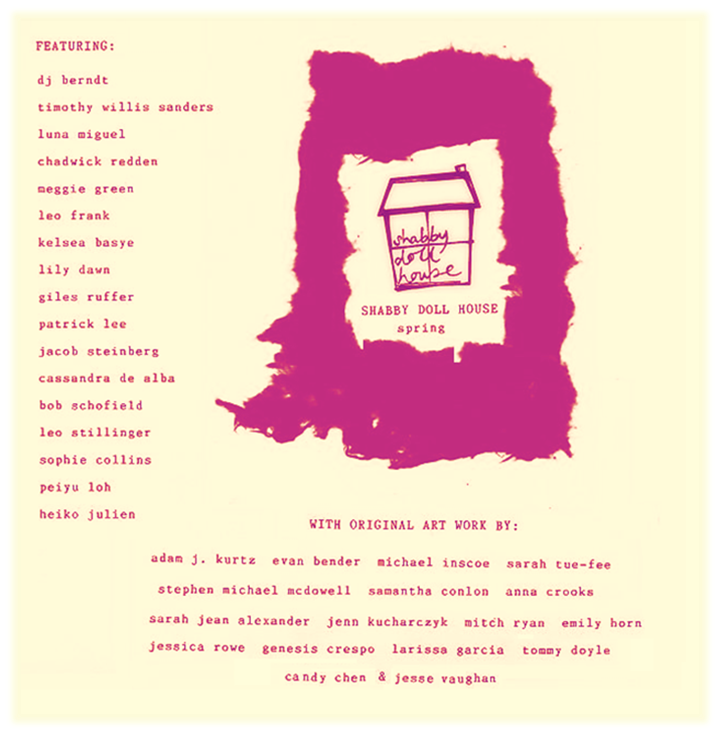 STACEY: Hi Lucy, thanks for agreeing to answer some q's. You run an online lit journal called Shabby Doll House, do you want to tell us a little bit about that?
SHABBY DOLL HOUSE: Hi Stacey.
Shabby Doll House (est. 2012) is an online publication that I started in order to showcase work that I felt excited about, but that didn't seem to have a home. We publish various forms of literature alongside original visual artworks made specifically to accompany the writing. We have published short stories, poetry, tweet compilations, gchats, watercolour paintings, .gifs, photographs, collages… It is kind of a mix of everything, but I think it has developed a particular style and sense of aesthetic.
I edit the website with Sarah Jean Alexander, and we aim to curate a cohesive collection of work every quarter. The general theme or aim, I think, is to distract or prevent people from feeling lonely.
S: Seems like a good thing for a online publication to want to achieve. What is the submission process like and roughly how many pieces would you get for every issue? Are there particular things you look for when selecting?
SDH: We received around 150 submissions for the last issue and published 17 of them, so we are able to be pretty selective, which is nice. I feel really good about all of the work we have published so far.
I don't think I can articulate what we're looking for exactly, other than to say I'm attracted to things that feel honest/funny/sad/new/comforting to me, maybe… Generally, I just seem to know straight away if something is a good match.
I'd recommend that people wanting to submit should read the site and then send whatever feels right/real/exciting to them. I'm interested in finding innovative ways to tell stories. Interested in not feeling bored. Interested in being shocked by the possibilities of poetry… I want what we're doing to continue evolving. I want people to us send things that they feel nervous about.
S: Another thing I have noticed with regards to Shabby Doll House is the way you seem to 'nurture' your current and past contributors. If you look at your tumblr, Facebook or twitter, you are always re-posting things related to people involved with SDH, I guess in the same vein as Pop Serial. You also do a 'news roundup' type thing. Did you start doing this intuitively and do you think it makes your publication stronger in any way?
SBH: Nice. I'm happy that you think that. I think it's intuitive to a certain point and then I try to go beyond that and to think of different ways that we can support people's work. I definitely want there to be a sense of community about Shabby Doll House, and I want to be able to give our contributors a platform to find a larger or different audience for their work, once we've published them.
But also, I think it's a cyclical thing, because every time we publish a new person, we are introduced to their circle of friends etc. Everybody is sort of helping each other. I'm just excited that all of these people are alive at the same time as me and that, thanks to the internet, we can now work together so easily. We're incredibly lucky in that sense. It is easier than it ever has been to find other people who are like you.
S: What is your/Shabby Doll House's relationship with "alt lit"?
SDH: Kind of feels like being associated with alt lit is like having a brother that you don't really get along with, because everything he says seems insane and makes you feel embarrassed, but if anybody outside of your family insults him, you feel defensive and want to protect him because he's still your family, or something…
S: I used to feel more negatively about alt lit than I do now. I feel more open to it, and think that there are good things happening within it, you just have to pick out what you like and leave the rest. More than anything I think that alt lit is a place for people to come together, like what you were saying about community, I think it is a nice thing to have that kind of support system as a writer. How do you think being a part of "alt lit" (is it okay that I am putting it in scare quotes?) affects your writing?
SDH: I appreciate the lack of pretense, I like that people don't feel the need to dress their emotions up in literary devices. I think that's what I feel most excited about and affected by in relation to my writing.
I think there is more to it than that though. I feel very fortunate to be part of a group of writers who work hard and support each other, and I feel encouraged by the responses I get from them. I think I'm more productive because I'm part of something that's bigger than just me. I feel like I've met people who want to do the same things that I want to do, for the first time in my life probably, so as much as it is easy to complain about a lot of things within 'the community', I think we're all extremely lucky to have collided somehow.
When you look at how people's closest friends are scattered around the whole world, you can understand the extent to which these people need each other. I think it's going to be interesting to see what happens to 'it' and to everybody, as time goes on/things develop.
S: Yeah, I feel interested in that also. It's nice to feel like you will always have an audience, particularly because that audience happen to be your friends. What does the future have in store for Shabby Doll House?
SDH: We will do three more issues this year, and there are going to be a bunch of readings in the summer time in the US and Canada. Also we're going to be putting together a print book in the fall with new content from some of our past contributors, so that's something I'm really looking forward to.
You can read past issues of Shabby Doll House here (http://shabbydollhouse.com/) and you can contribute by emailing [email protected]
---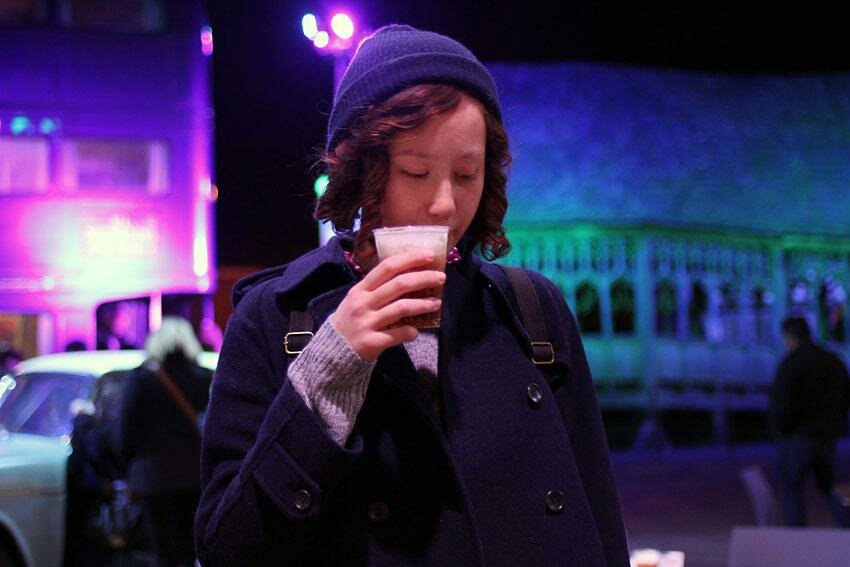 Stacey Teague's fave types of nuts are almonds, pistachios and cashews. Least fave are brazil nuts and walnuts. Blogs at staceyteague.tumblr.com