Performance Poetry / Nautical Textiles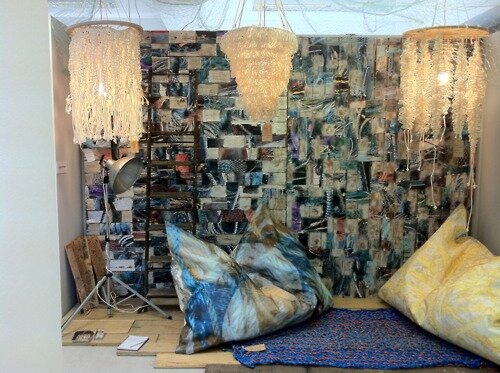 My new vocation as a performance poet is going stonkingly. Two gigs in, I've already achieved three lifelong dreams:
1) Make someone laugh.
2) Get nominated for Poet Laureate.
3) Get over 100 youtube views.
---
A Good Old Yarn
Parabola Arts Centre, Cheltenham
Hosted by outrageously drunk and bawdy poetrix Hay Brunsdon, 'A Good Old Yarn' makes the obvious link between spoken word and nautical textiles.
I'm pretty nervous. Unfortunately I haven't had time to think about what to wear or how messed up my hair is, which makes me feel a fraud since in my experience all performance poets don outrageous outfits and hairstyles. I just want to fit in.
I get to the venue – one of those tiny rooms up lots of stairs, its walls draped in ropes and boat-patterned material – with just enough time to grab something alcoholic. Only I can't find anyone to serve me alcohol, anywhere, in the whole theatre, and I feel like weeping in a corner as I realise I'm going onstage stone cold sober. Instead I squash myself onto a seafaring beanbag at the side of the stage and quake.
The first poet is Dan Holloway. He's a big guy with ringlets, trouser-braces and fingerless gloves, and he beats me hands down in the 'outrageous clothes' competition going on in my head. Dan pulses out metrical tales of love under Hungerford Bridge and lonely people locked in houses waiting to Let go. What I particularly like about Dan is the way, in the interval, he so quickly corners me and asks me to perform at events he hosts in Oxford. That's the sort of networking I like – especially from talented poets.
I'm second. The audience is right there, and there's no mic to hide behind. I do a spiel about emails that I don't think comes out too rehearsed and launch into:
And it works! I fly through Thing in the Kitchen with only one glitch on 'gobbling', my five minutes are up and I retreat to my beanbag.
Lucinda Murray, a co-conspirator in the Writing Circus project reads a funny-sad poem about sorting through her hoarder grandmother's possessions. Wrongly, she is all self-deprecating and angsty and stuff. She is also beating me clothes-wise, henna-haired and leather-jacketed.
Then it's the interval.
It's the interval. There is still no one at the bar and no alcohol to be found anywhere. I linger so long waiting for someone, anyone, to serve me a drink I miss half of the next poet's act.
This 'poet' wears a grey v-neck and a shirt. That is all you need to know.
And last Joel Denno, a guy I first saw flying his way through the Cheltenham Literature Festival Slam with poems about suited businessmen emerging from the mouth of hell for their lunch break. Joel sports a mohawk, blazer and fabulous green eyeshadow; ladies and gents, we have a winner. His first poem is political, pleading, movingly, for the humane euthanasia of farm crops and weeds. He finishes with a love poem to, well…