April is National Poetry Writing Month. Do you NaPoWriMo?
Geriatric Sex Garden
I sized up his pink apparatus
under the flood moon light.
He grinned like a diamond
and gave like a gift.
Though white hair cools wind
and I live like my mother,
I'm young in the lather of night.
Helen Harvey, 9th April 2006
April is to poets as November is to novelists. And while NaNoWriMo's Office of Letters and Light urges writers everywhere to indulge in a so-called "Script Frenzy" this April, I've always preferred the mellower drug of poetry.
NaPoWriMo: 30 days, 30 poems. I first heard of NaPo on April 1st 2006, and naturally I assumed it was an April fool. The idea grabbed me though, and after several hours' agonizing over the potential humiliation I eventually decided, fool or not, it was a cool idea. I threw caution to the wind, announced my intention to friends, threw a party, got drunk (it was a Saturday night) and at midnight I sat on the windowsill and wrote a poem about getting drunk and sitting on a windowsill.
Why should I?
Because it's fun. Because everyone has a lot of clogged up unpoetic rubbish in them trying to wriggle free as poetry. At the very least you can think of NaPo as poetic colonic irrigation.
Because sometimes you write good stuff. You write things you didn't think you had in you. You end up looking for inspiration in the unlikeliest of places: Didcot railway station frinstance, sick puddles, motorways, aunts, Woolworths, the smell of bacon when there is no bacon.
When you write so much poetry in such a short space of time you get a chance to let go of the fear of damaging that blank white page. Liberate yourself.
An Accident
I've stalled on the wrong side of the motorway.
Chaucer is on my bonnet, bloody.
O bugger.
20th April 2007
Writing 30 good poems is not the point.
Of the 121 poems I have ever written for NaPoWriMo (I unwisely got carried away in 2008) this is what I have achieved:
8 published or soon-to-be published
2 prize-winning
1 Daily Deviation on deviantArt.
7.4% is, it has to be admitted, not a high rate of efficiency. But it's not nothing either. Most of the poems I produced have potential I've never bothered to chase; or have provided a phrase, a thought, an image I've reused elsewhere. A number are in the wings, biding their time, waiting to pounce.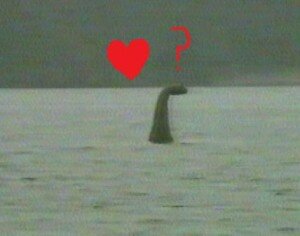 Seamonster's Lament
I met a seamonster looking sorry for himself
on the High Street, and I asked
what was up.
I wanted to buy a card,
he said, from Woolworths,
for my Valentine's date. Looks like
the wires are down between here
and the deep sea. No one told me
it was over.
This is the way the world ends, said I.
23rd April, 2009
Don't be ashamed.
Hone your poetic muscles till they bulge from your cheesecloth smock. When you walk down the street strangers will swoon at the size of your massive creativity.
I haven't NaPo'ed for two years, but by May 1st 2012 I intend to be a poetic gladiatrix once more. Join me.